Remember Boys Before Friends, the failed American adaptation? It was announced in 2013 and this wiki wasn't even a year old yet. I remember returning to the wiki to create a page for Boys Before Friends, but I was confused on what else to do. I wasn't well-versed in unofficial versions yet and the wiki wasn't properly set up either.
So to a young, naive person like me back then, an American version was intriguing and exciting. In hindsight, there were a lot of signs.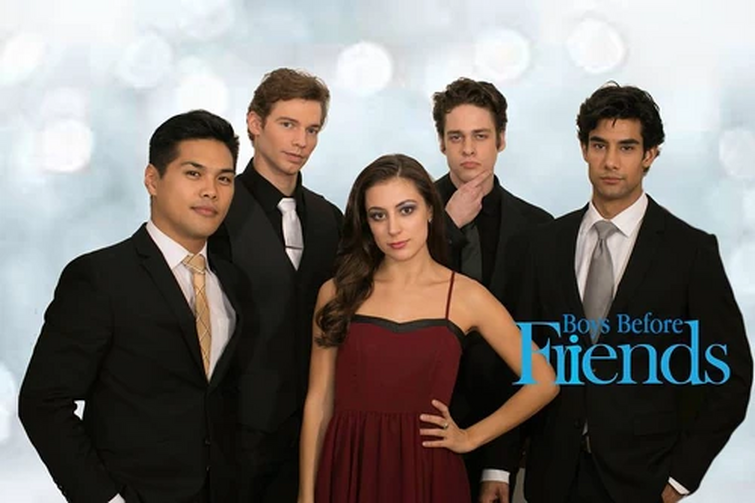 Boys Before Friends was created by Kel and Eriden Williams, whom were fans of Korean dramas and wanted to bring those stories to the west. They made a promise to "stay true" to the manga, but obviously never obtained the copyright. Boys Before Friends then went to be "inspired by" until they dropped that line too. In that respect, the series resembles the unauthorized Meteor Shower.
I believe Kel and Eriden were well-meaning, but these two obviously had no experience with a big project like this nor did they have the funds. Though the project started off optimistically, it quickly went downhill. Tensions behind the scenes eventually led to stars Dawn Morrow and Joseph Almani being fired and replaced. The series did not last for much longer and everything went basically silent.
Now was Boys Before Friends really that bad? Well, yes. The first two episodes were notoriously horrible and many fans did not continue on, myself included. I remember laughing out loud when the female lead was changed from actress Claude Racine to Dawn Morrow in a strange make-up sequence. However, after viewing episodes five and six, I would repeat the words on an IMDb review "[it] grows on you." Now here's a pros-and-cons list.
Pros:
Racial diversity. Being set in America, Boys Before Friends cast people of different races and backgrounds.

Looks. The series definitely fulfills my expectations for a good-looking F4. I still swoon over Joseph Almani. Along with Almani (Tsukasa), there's Trenton L. Culkin (Rui), Jason S. Mordeno (Akira), and Erik Thomas (Sojiro). I was less impressed with Almani's replacement Kevin Markovic, who is still good-looking, but doesn't really suit Tsukasa's look.

Storyline. While lacking in writing (see cons below), I liked where the series was heading just before it ended. Instead of just focusing on the leads, Zoey and Liam. The story also followed blossoming romances between Chase (Erik) and Zoey's best friend Piper (played by Jackie Aviera) and Noah and Zoey's older friend Chloe (played by Suteara Vaughn). The latter, in particular, I found adorable.
Cons:
Production. Boys Before Friends was definitely lacking in funds and production showed it. Viewers criticized the editing and lighting from the get go. After a few episodes, the quality improved but many had already jumped ship.

Acting. Though the actors improved with time, it's hard to get past the wooden acting of the first few episodes. I'll give them all a pass though because it was likely everyone's first project and the messy production didn't help them.

Writing. Despite having Boys Over Flowers as a good foundation, the plot often feels very surface level and, at times, messy. I also think they made a bad call from switching the setting from high school to college. The concept of a bullying clique in an American college just seem ridiculous.

Drama. The behind the scenes drama inevitably leaked into the show itself and spread around online. It's hard to watch without thinking about all the troubles. And honestly, who continues after firing the lead actors?
So Boys Before Friends was a mess, but it was a beautiful moment for the actors and crew for an albeit short time. I really believed everyone tried their hardest to make it successful, but it wasn't in the cards. Maybe, a less ambitious American version can happen one day (in the vein of The Lizzie Bennett Diaries) though I doubt it.
Unfortunately, Boys Before Friends has been removed from Viki (where it originally aired). A person may be able to find it by less scrupulous means though. Anyway, episodes five and six still exist and there's a handful of fan videos:
And finally, some pages you may be interesting in reading: